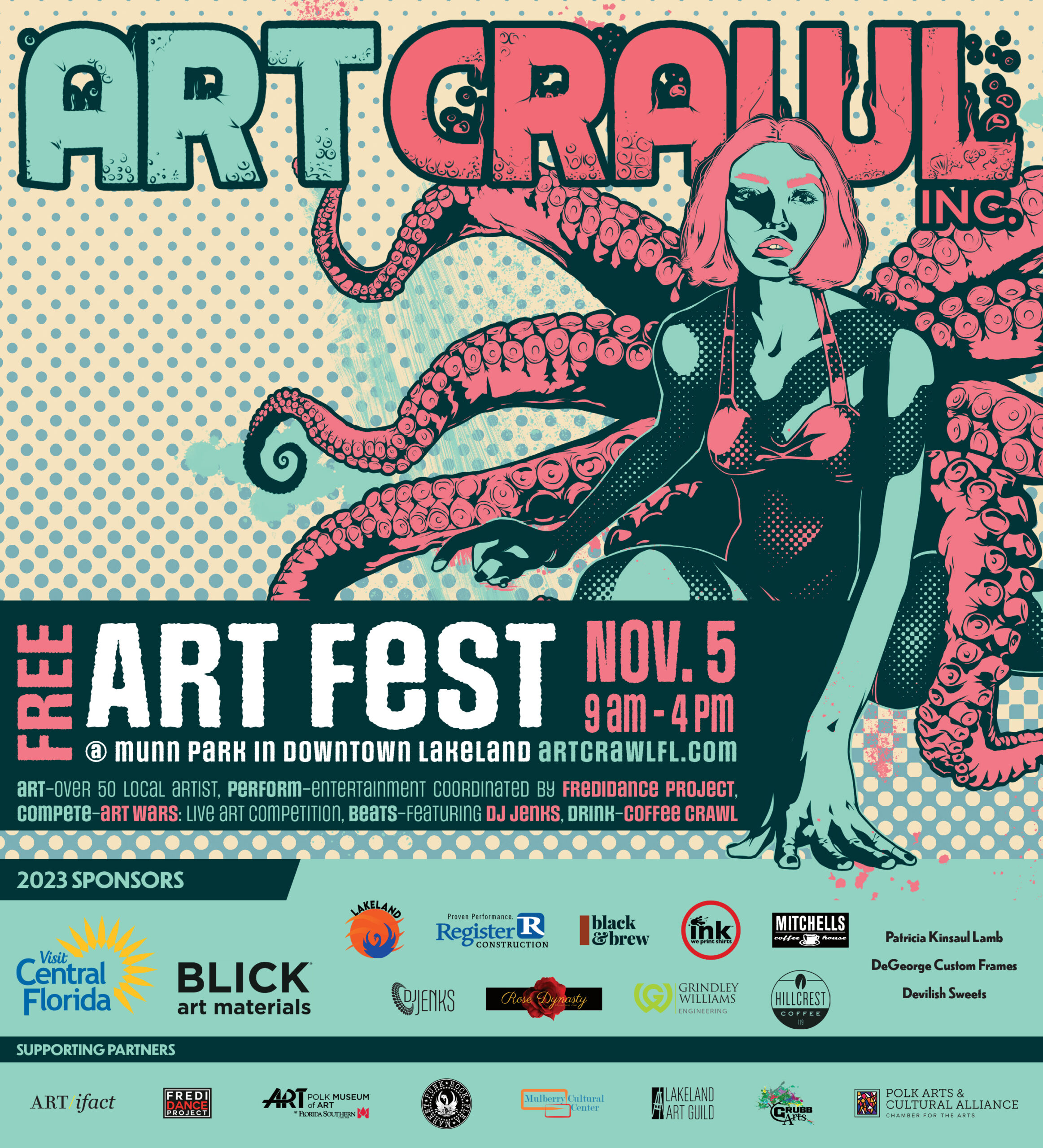 "ART WARS"
LIVE ARTISTS, WE ARE LOOKING FOR YOU!
Application Deadline: September 25, 2022
Test your skill, creative thinking, problem solving, and time management. Art Crawl is looking for 10 artists who are up for a LIVE ART CREATING CHALLENGE! Artists chosen to compete will have just 5 hours to create large works on 36″x80″ panels using art materials, tools, and a surprise box of found objects. Those who dazzle the audience and our panel of judges will walk away with cash prizes and $100 gift certificates from Blick Art Materials!

Plus…EVERYONE chosen to compete will receive supplies from Blick Art Materials!
Do you think you have what it takes for the ART WARS challenge? Apply now to for your chance to be part of the fun and action of Art Crawl 2022 on NOVEMBER 5!
---
Chosen artists will join us for Art Crawl 2022, a one-day fine arts festival serving as a catalyst to celebrate the emergence of new and innovative artists in Central Florida. This annual juried outdoor art festival features an accessible venue for fine art sales, art collection, entertainment, and the introduction of non-traditional art mediums and styles to a varied audience.
Art Crawl, Inc. is a 501c3 non-profit organization serving as a catalyst to celebrate the emergence of new and innovative artists in and around Central Florida.
ART WARS is sponsored by:

"ART WARS"
Get the details
DATE:
Saturday, November 5
LOCATION:
Munn Park
210 E Main St.
Lakeland, FL 33801
WHAT'S PROVIDED:
Each chosen artist will be provided (1) 36"x80" primed hollow wooden door (no holes, with braces mounting the door either vertically or horizontally), a box of found objects, and surprise materials from Blick Art Materials which MUST be incorporated into each artist's piece.
ART MATERIALS & FOUND OBJECTS:
Blick Art Materials will be giving all artists the same surprise materials, however the found objects will NOT be the same for each artist. Objects will range in size, shape, and material making up a big part of the challenge. All pieces must be incorporated, but do not have to keep their original form, color, or shape. Each random box will be handed out at 8:30am on the day of the event to kickstart creative thinking and problem solving skills.

ARTIST MUST PROVIDE:
Each chosen artist must provide their own drop cloth and basic art materials: paint, glue, collage material, other found objects, brushes, water bucket, tools, etc. making sure they have the tools in order to create the piece they desire. Anything to create the piece will be left up to each individual artist in order to make it their own. (Spray paint, airbrushes, and aerosols are prohibited.)
NOTE: Drop cloths must be able to prevent any material the artist uses from staining or damaging Munn Park's grounds. Any staining or damage will result in fines from the city.
Though the competition will be under trees, we'd suggest bringing a 10'x10' tent for promised shade and protection.
ASSISTANTS:
Each artist may include one assistant to help complete their piece within the 5 hour block. Bring a buddy!

JUDGING:
Judging will be done by a surprise panel of judges. This competition will be all about having fun, theme interpretation, celebrating the challenge itself, and what each artist successfully created within the 5 hour block. HAVE FUN!

AWARDS (CASH):
1st – $350
2nd – $200
3rd – $100
(PLUS: Each winner will receive $100 gift certificate from Blick Art Materials)

IF I'M CHOSEN, WHAT HAPPENS TO THE PIECE AFTERWARDS?
During Art Crawl, the work can be offered for sale by the artist or may be chosen as a local exhibition inclusion piece. Ultimately, no matter what, the piece is the artist's. BRING A TRUCK, VAN, or SUV! 
Application Deadline: September 25, 2022 (midnight)
FEES (non-refundable):
Application Fee – FREE
Chosen Artist's Competition Fee – $25 (if chosen)