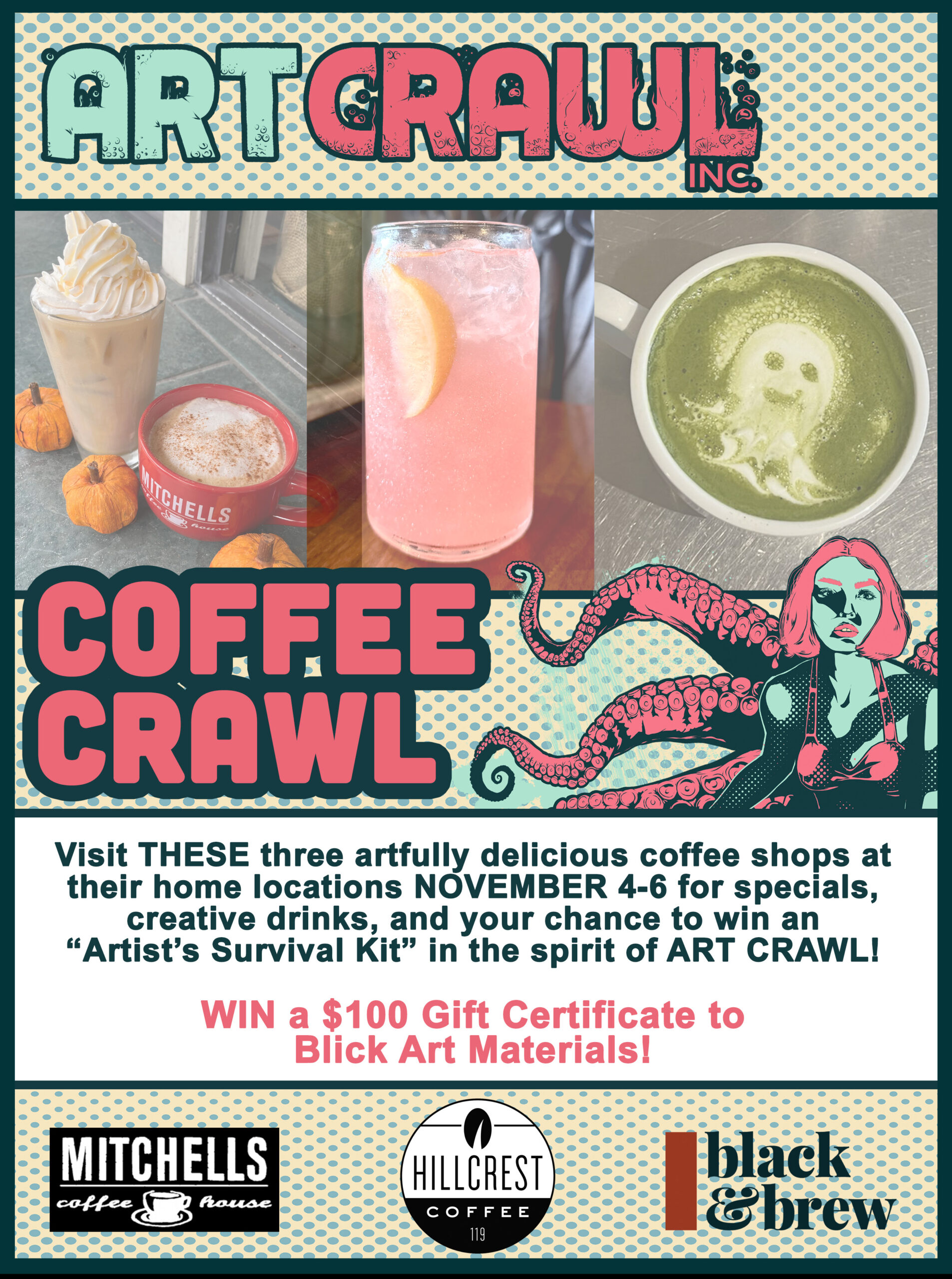 It's not wine and art… It's COFFEE and ART!
Visit Lakeland's artfully delicious coffee shops at their home locations for specials and creative drinks in the spirit of Art Crawl 2022! Help us celebrate local buisnesses who support the arts year round.
Visit any of the three coffee shops listed below over the Art Crawl weekend (November 4-6, 2022) and enter to win an Artist's Survival Kit!
Artist Survival Kit Includes:
$100 Gift Certificate to Blick Art Materials
"Mitch be Sipping" T-shirt
Hillcrest "Music Thursdays" t-shirt
16oz Buddy Brew – Old Florida Coffee beans
10oz Patriot Craft Coffee – Blend No. 205 beans
"Your Anytime Place" camp cup
Variety of art supplies

No purchase necessary. Scroll down for locations.
Black & Brew serves as a hub to the entire city of Lakeland at its flagship location downtown and it's breezy cafe located at the Lakeland Public Library on Lake Morton. Friendships are forged, romances kindled, and business deals sealed in an environment that was created to facilitate connections and remind us of our humanity. Our mission continues to be to "provide a unique and uplifting experience for each of our guests…" In practical terms, that means creating an atmosphere that is warm, inviting and inclusive. A place where everyone is welcome, at any time, for any reason. This is evident in the diversity of guests that frequent our cafes.
FEATURED DRINK:
Lemon Lime Pink Glitterade
Hours:
M-Th: 7am-8pm
F: 7am–9pm
S: 8am-9pm
Sun: 10:30am-5pm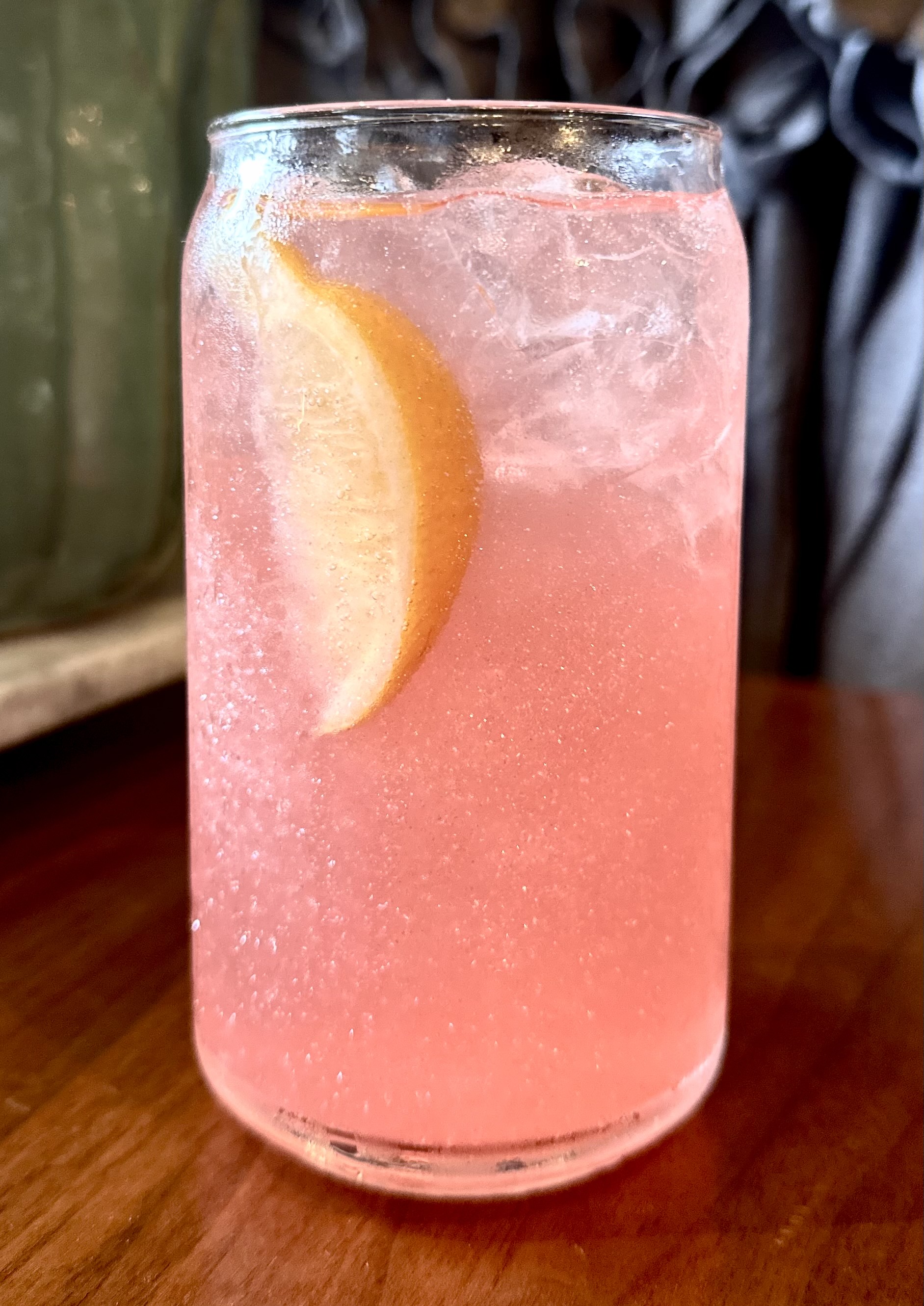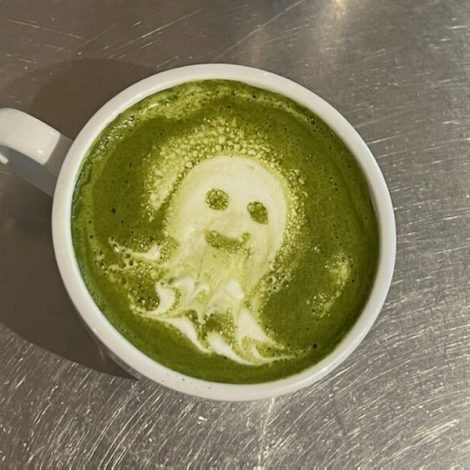 Hillcrest opened its doors in 2017. What was once a 1920's bungalow at the corner of South Missouri Avenue and Hillcrest Street, is now Lakeland's neighborhood coffeeshop. Hillcrest is a place for people to gather, connect, unwind, and experience the fullness of our community. We believe in amplifying the voices of artists, musicians, and creators and do our best to serve as an art, music, and community venue. Whether you're just stopping through or plan to stay awhile – we hope that your visit is bright.
FEATURED DRINK:
The Green Octopus Matcha Latte
Hours:
M-F: 8am – 4pm
S: 9am – 2pm
Closed Sunday
A true independent coffee shop, Mitchell's was founded by the Harvey's in 1998 to fill a much needed void in the community. From the start Mitchell's has featured local artists and original artwork in the store.
Each morning Mitchell's is filled with an eclectic mix of local residents, business people, college students and out-of-towners all enjoying the cozy atmosphere and friendly service.
FEATURED DRINK:
The White Chocolate Macadamia Latte
Hours:
M-S: 7am-5pm
Closed Sunday